Getting started with Time bot for Slack
Welcome to Time bot! This page is your guide to getting started with our time management tool. With Time bot, you'll be able to track your time easily and efficiently, so you can focus on what matters most. Whether you're a freelancer, a small business owner, or just looking to be more productive, Time bot has got you covered. Get started today and start getting things done!
Feel free to add Time bot to your Slack workspace from Slack apps directory.
Time Bot for Slack Commands
/t task description — start time-tracking for the task.
/t break description — track a break with custom description.
/t break — track a break between tasks.
/t call — when on call or meeting.
/t finish — finished for today. Indicates limited availability.
/t online — check who's online now including timezone.
/t help — available commands.
/t status — (admins only) current team statuses and time spent on them.Shortcuts/t b — track a break between tasks.
/t f — finished for today. Indicates limited availability.
Take a detailed look at how to use the commands above:
/t task description
Starting your workday is easy with our Time app! Simply type /t followed by the task description in the app or channel where you're working, and you're good to go. Our app makes it simple to keep track of your tasks and stay organized throughout the day.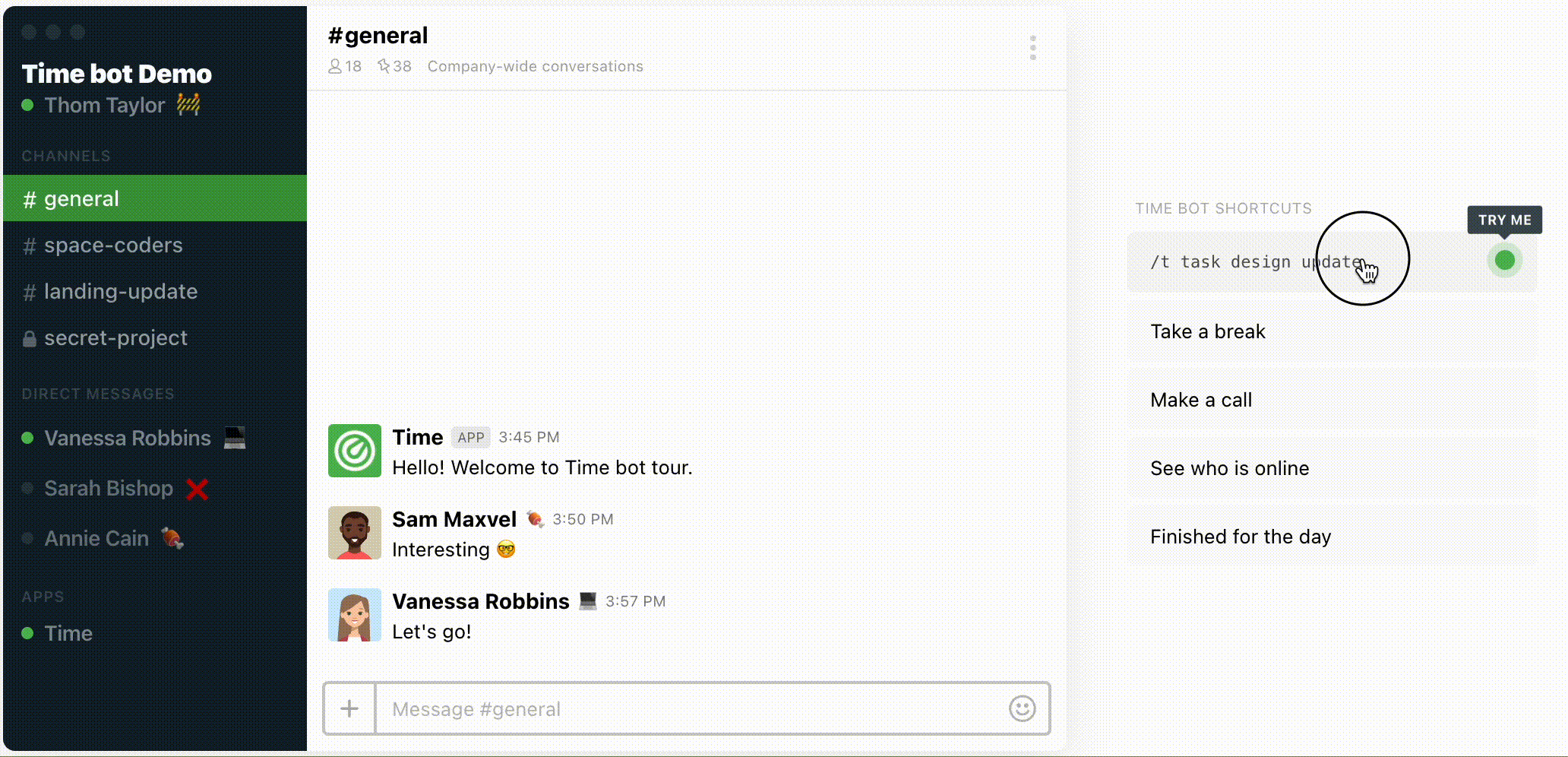 To seamlessly switch to a new task, navigate to the relevant channel and enter /t followed by a brief description of the new task. This will automatically conclude your previous task and initiate the new one, ensuring a smooth transition between tasks.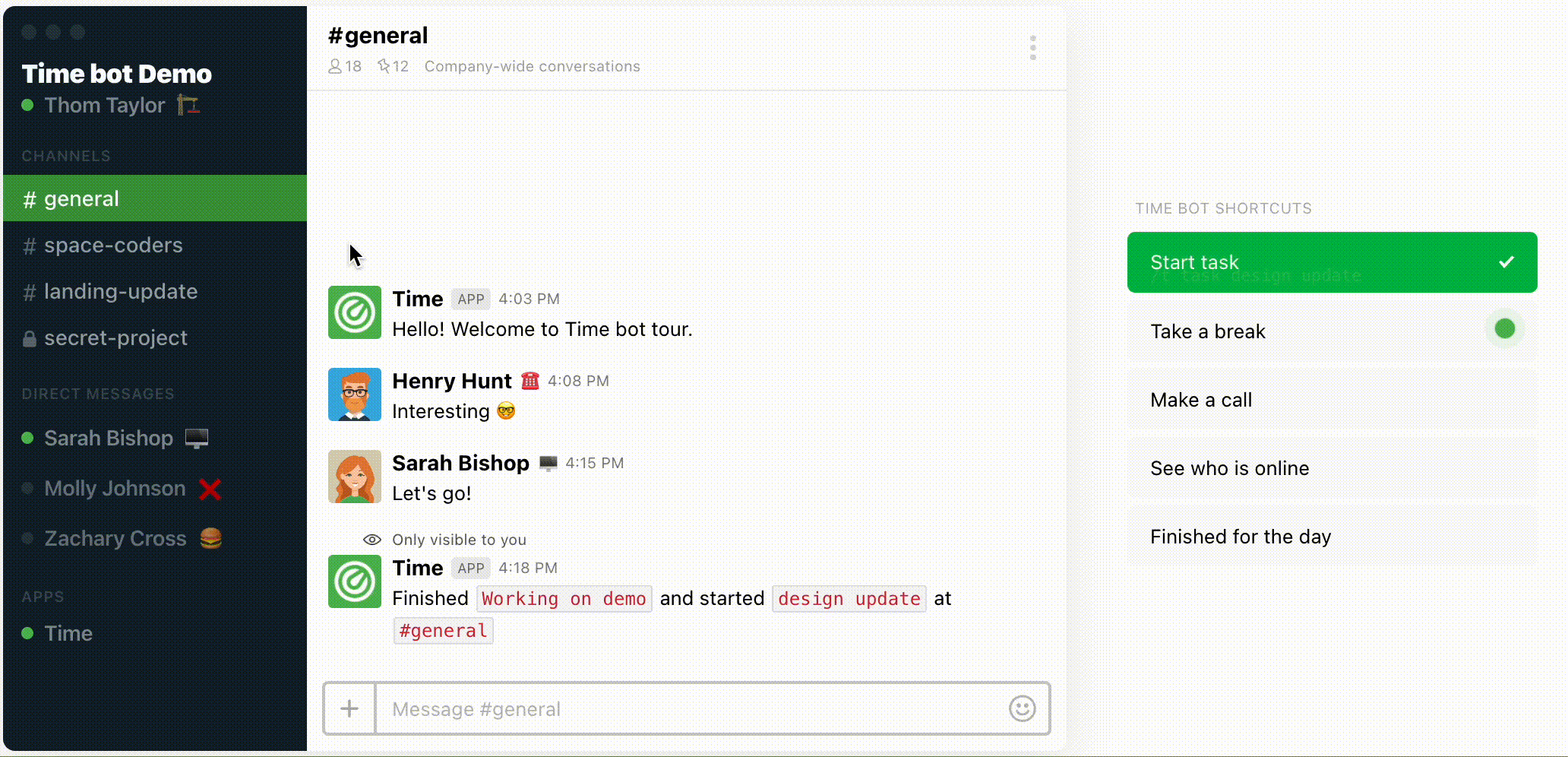 /t break
To take a break between tasks, you can enter any of the following commands in any channel:
/t break [description] — if you want to specify the length of a break, for example, you can type /t break lunch.

/t break or /t b — if you want the take a short coffee break.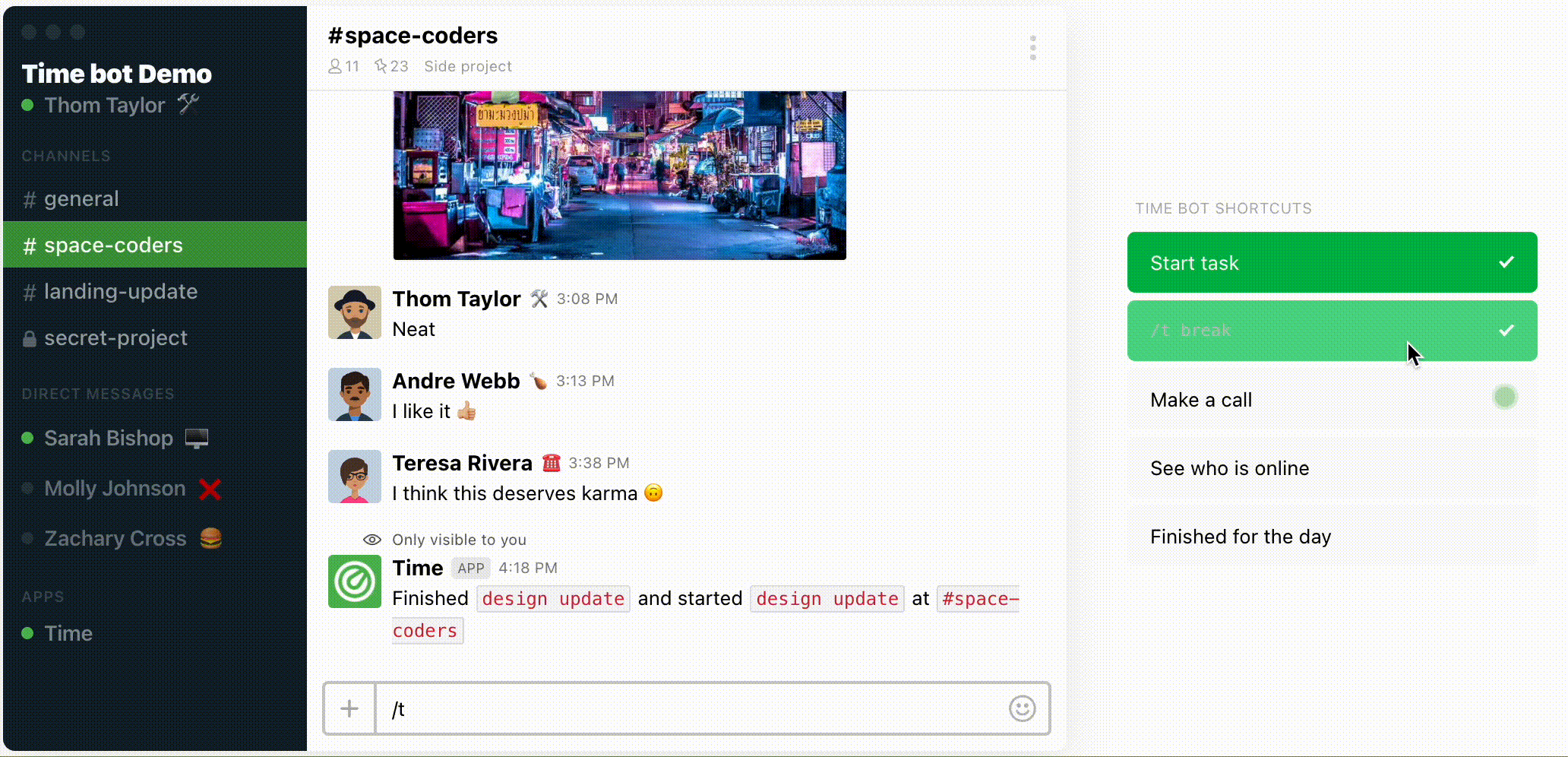 To resume working after taking a break, you can either continue with the previous task or switch to the next one by typing /t followed by the task description in the corresponding channel.
/t call
To indicate that you are on a call or in a meeting, you can use the command /t call in any channel or on the Time app.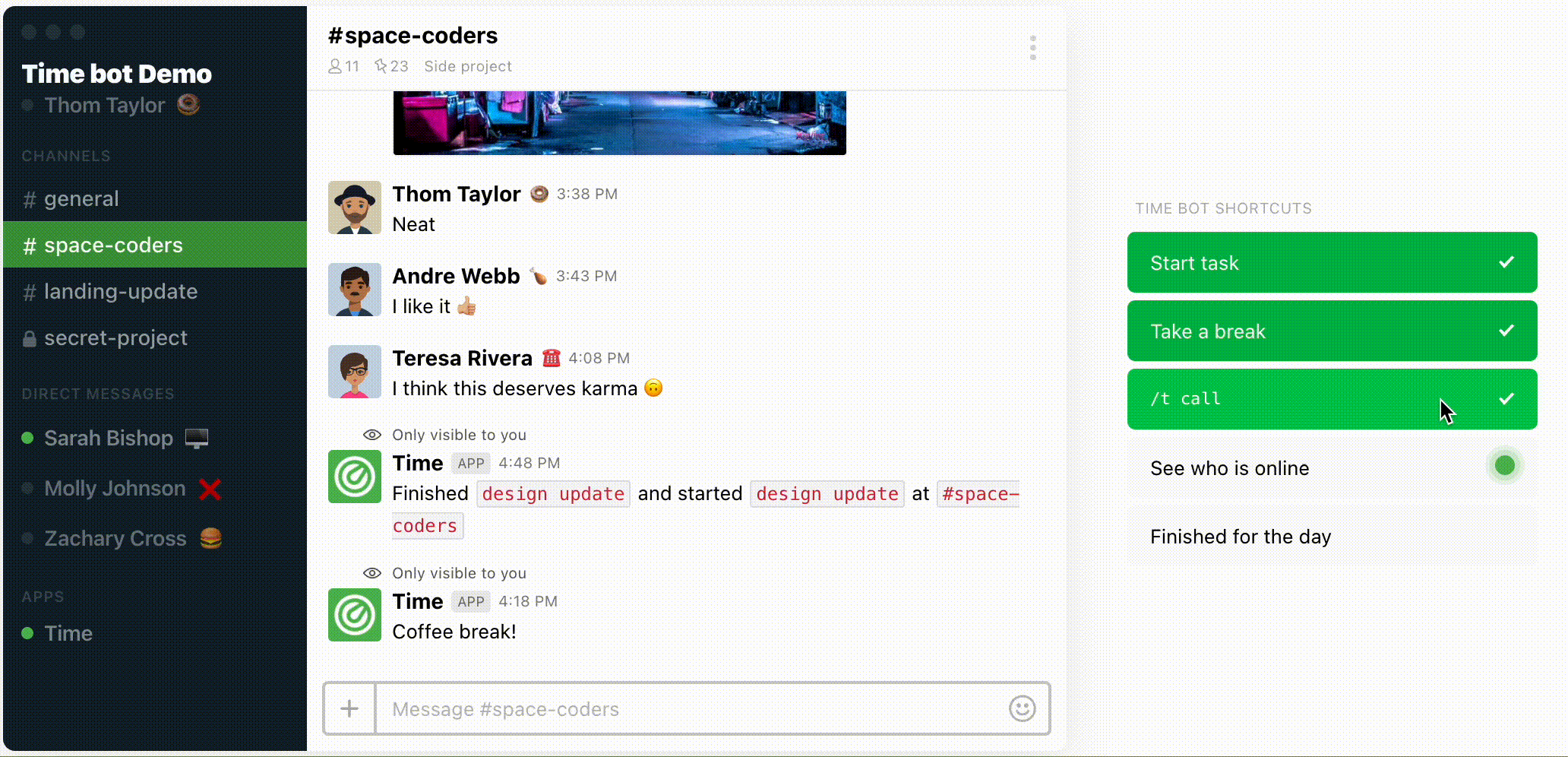 /t help
If you ever forget any of the necessary commands, you can always type /t help to access a list of quick actions.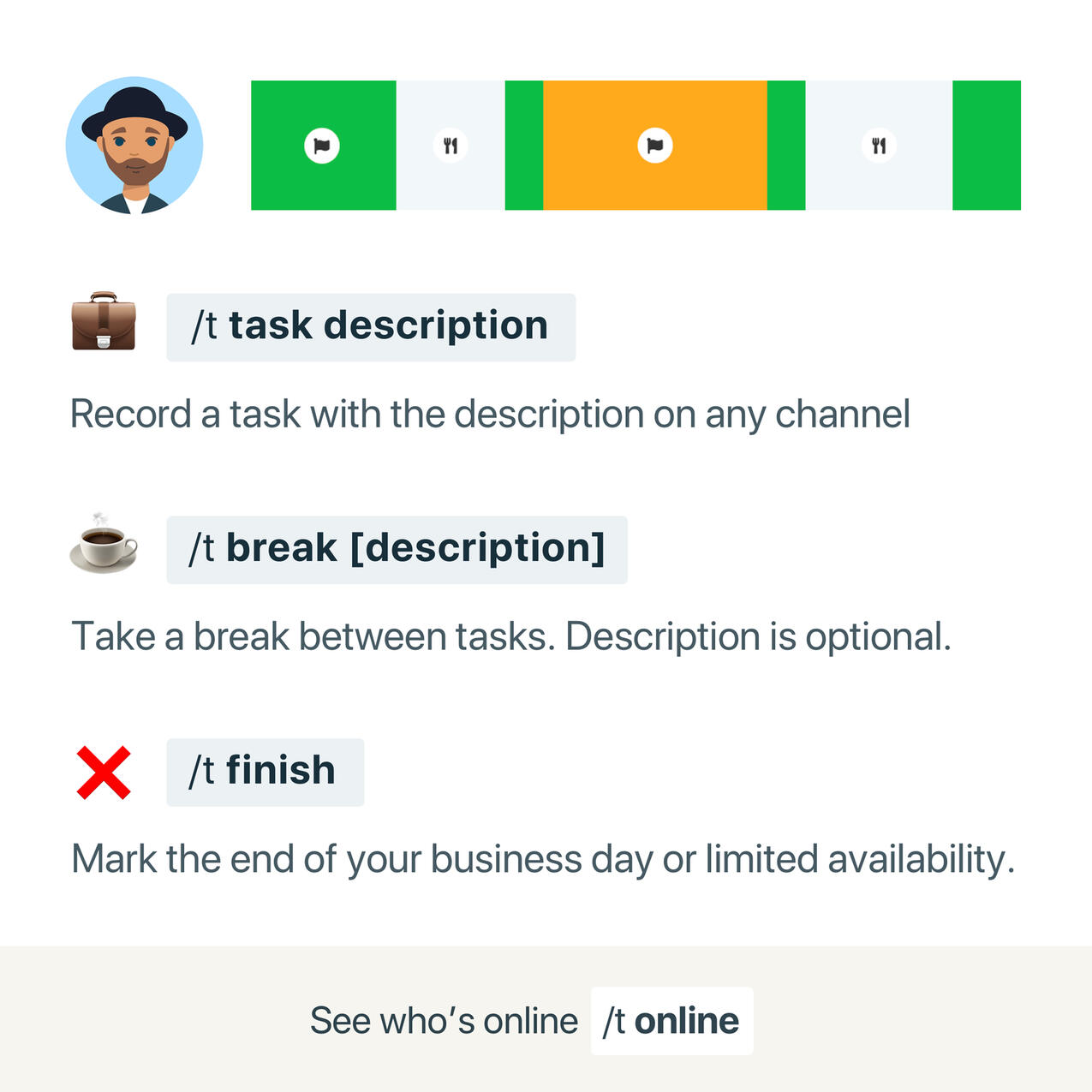 /t online
To view the list of colleagues who are currently online and their respective time zones, simply type /t online in any channel or the Time app.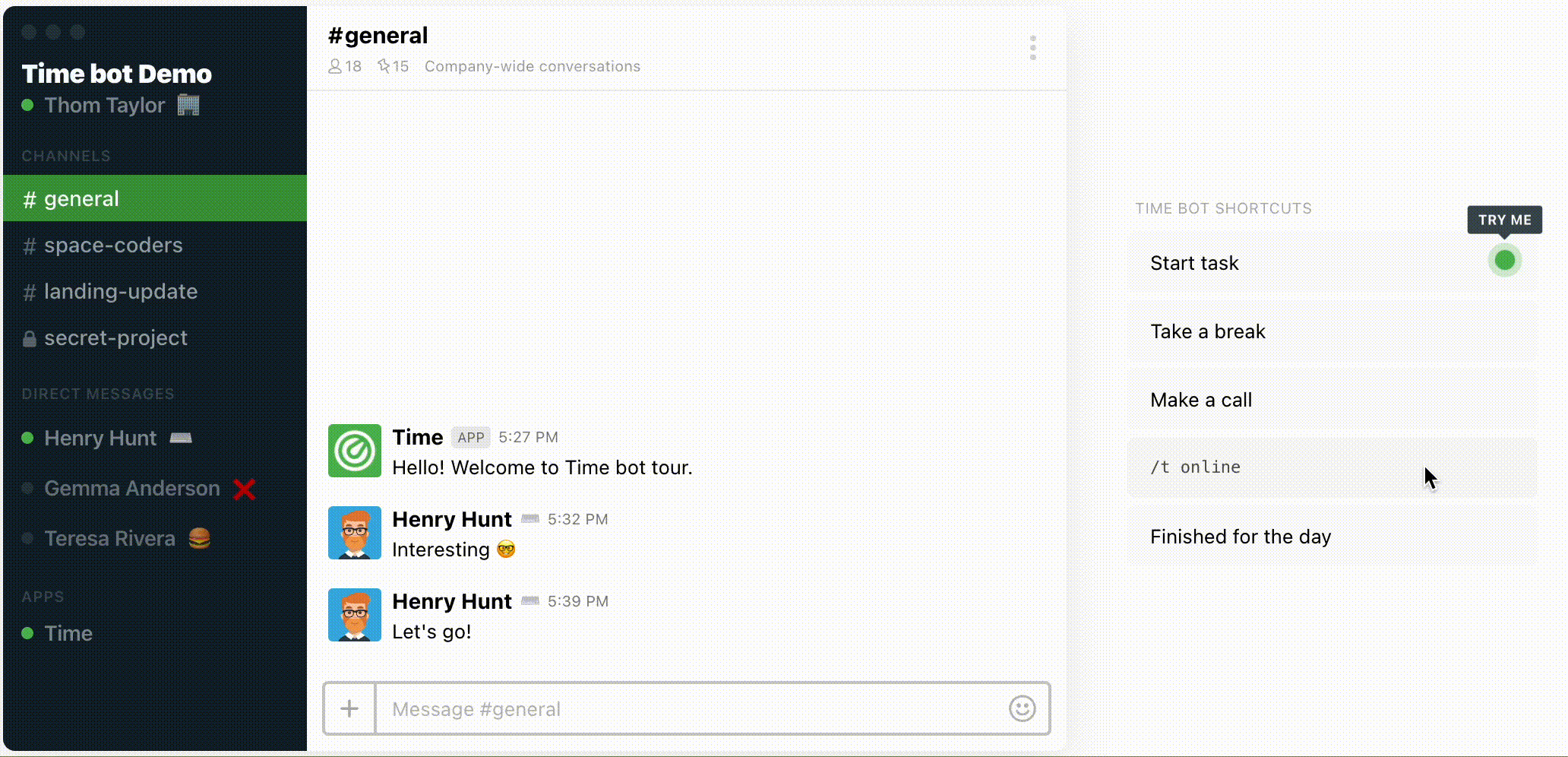 /t finish
Let your colleagues know that you are done with work for the day by typing the /t finish or a simple shortcut /t f in any available channel.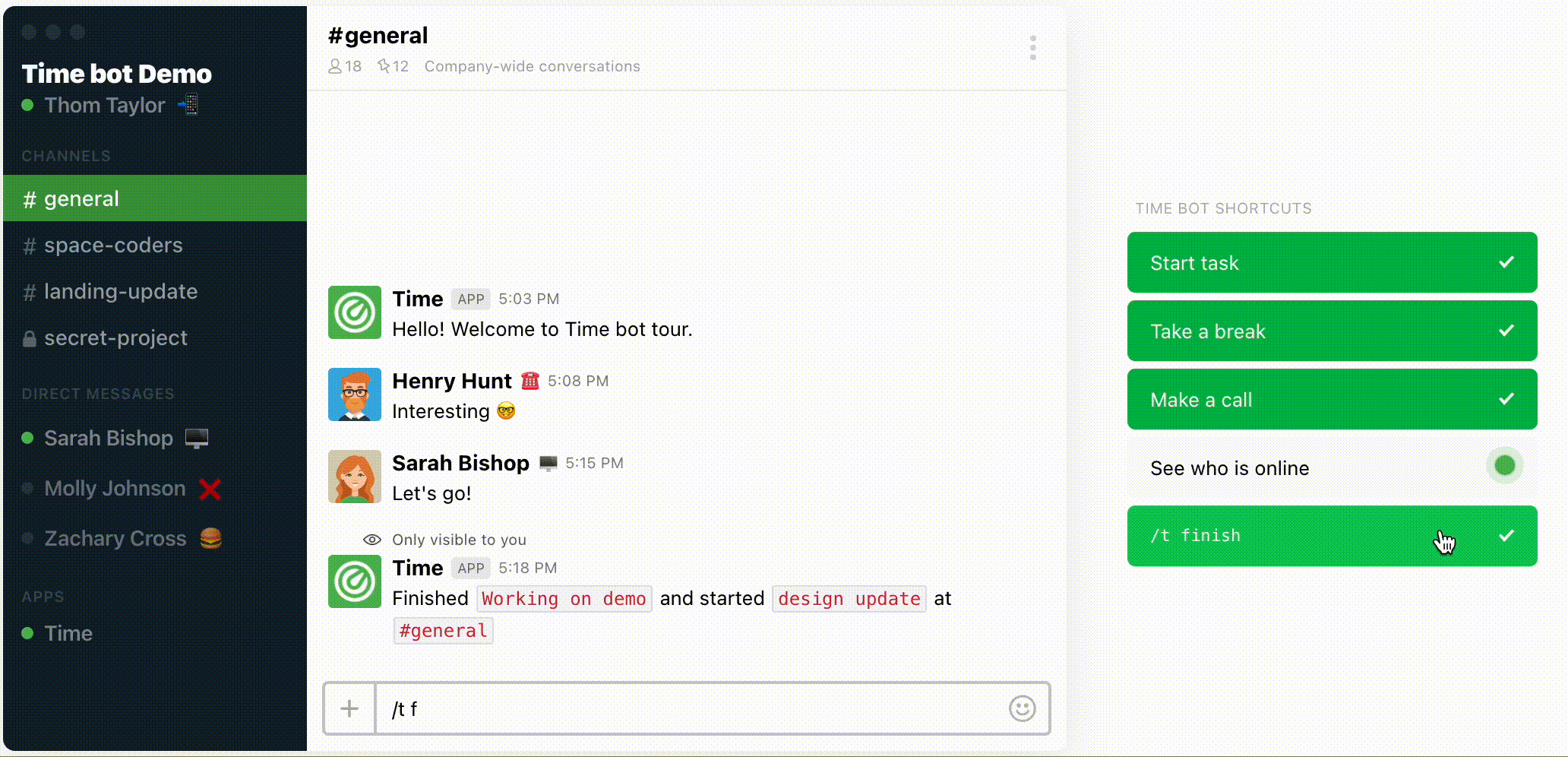 The red cross next to your username will indicate limited availability.

💡 Pro tip: You can also use the Time playground yourself. This tool can provide additional insight and opportunities for experimentation with Time bot's capabilities.
Settings
To access the Settings in your Time Bot account, simply click on your Profile menu located on the top right of the tab bar. From the dropdown that appears, select "Settings."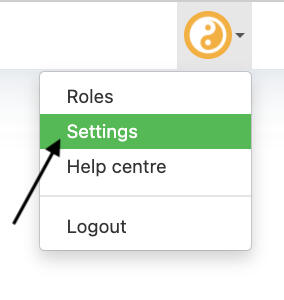 Permissions
In the Permission tab, you can specify who has access to edit roles and change permissions for the available options. To assign access, choose one of the options from the dropdown menu.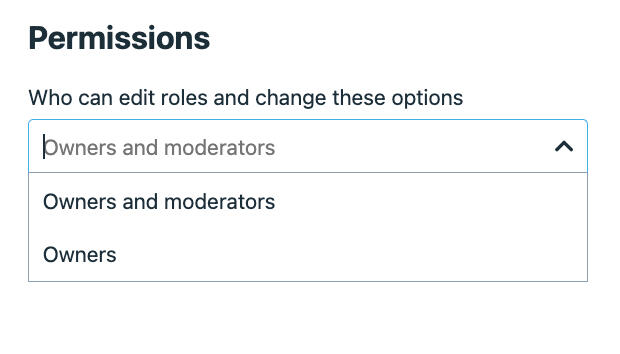 To grant users the ability to adjust the duration of both tasks and breaks, just select the checkbox below.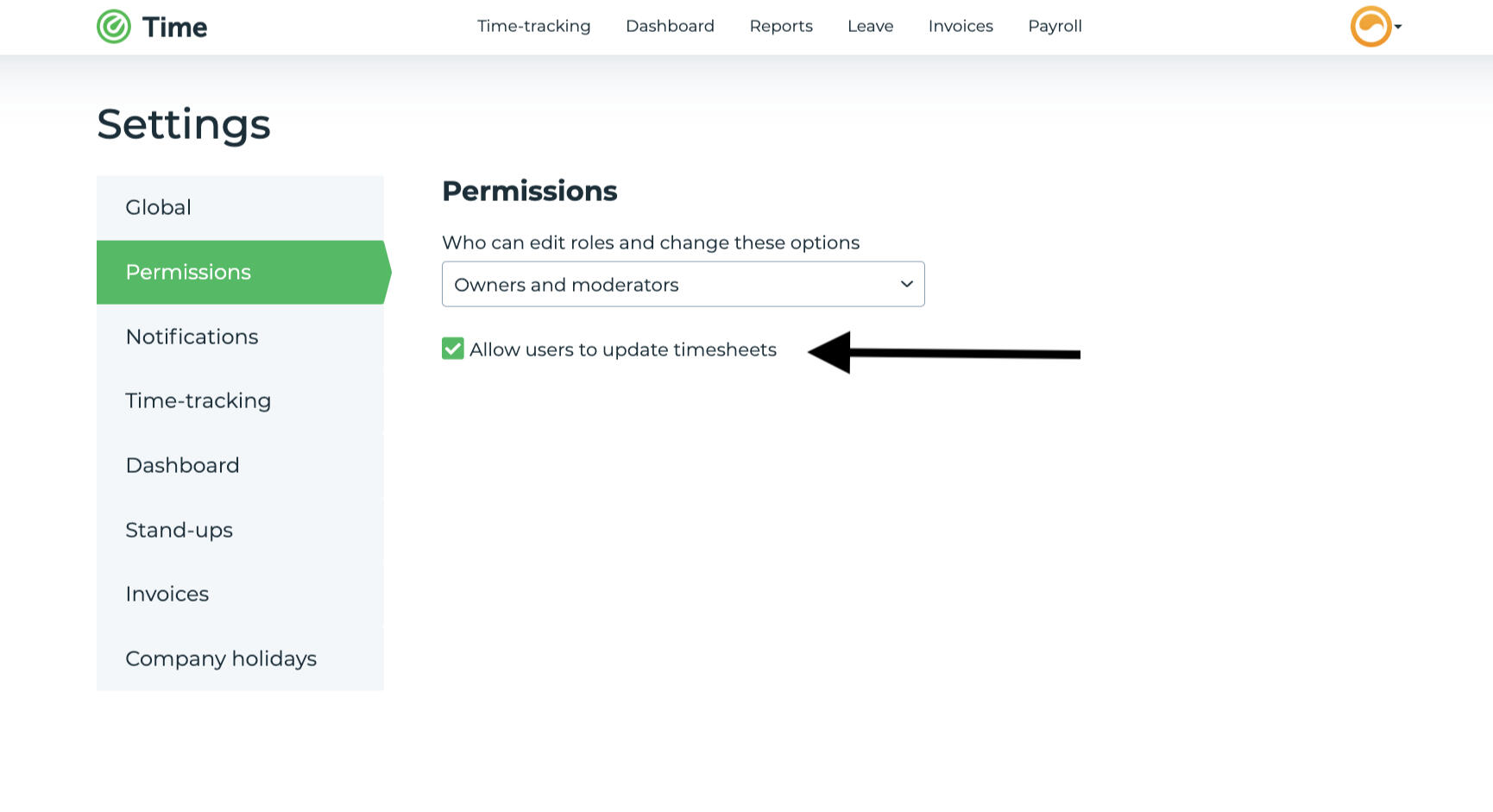 Time-tracking
In this section, you have the option to schedule daily status reports and sync your activity with the status in Slack. This helps you stay organized and keep track of your progress effortlessly.
To schedule daily status reports, follow these steps:1. Select the checkbox for sending daily reports.
2. List all the emails that will receive the reports separated by commas.
3. Set the preferred time for sending the daily status reports.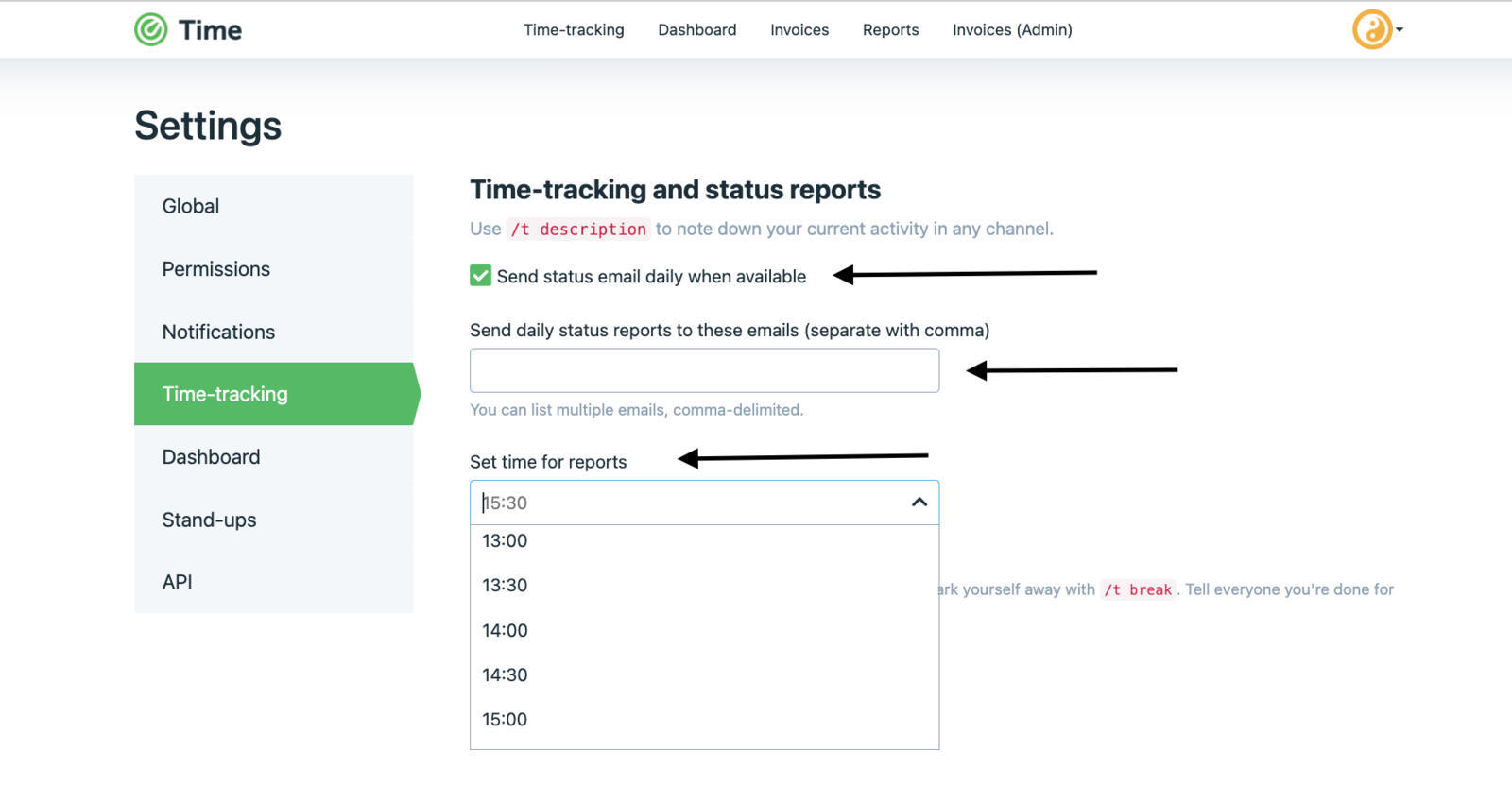 To synchronize your activity with the status in Slack, simply check this checkbox below.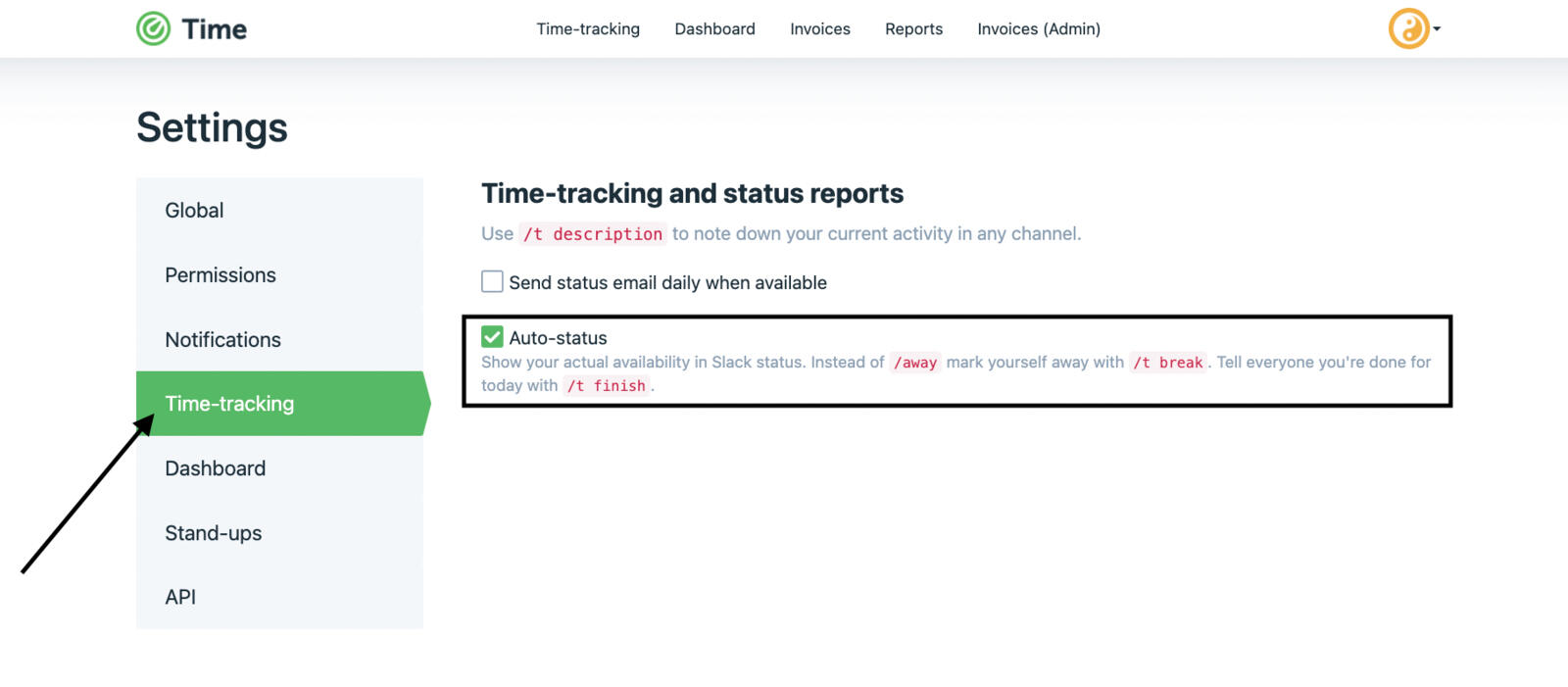 Notifications
Set the maximum task/break time and configure notification preferences.
Choose task time from 30 minutes up to unlimited.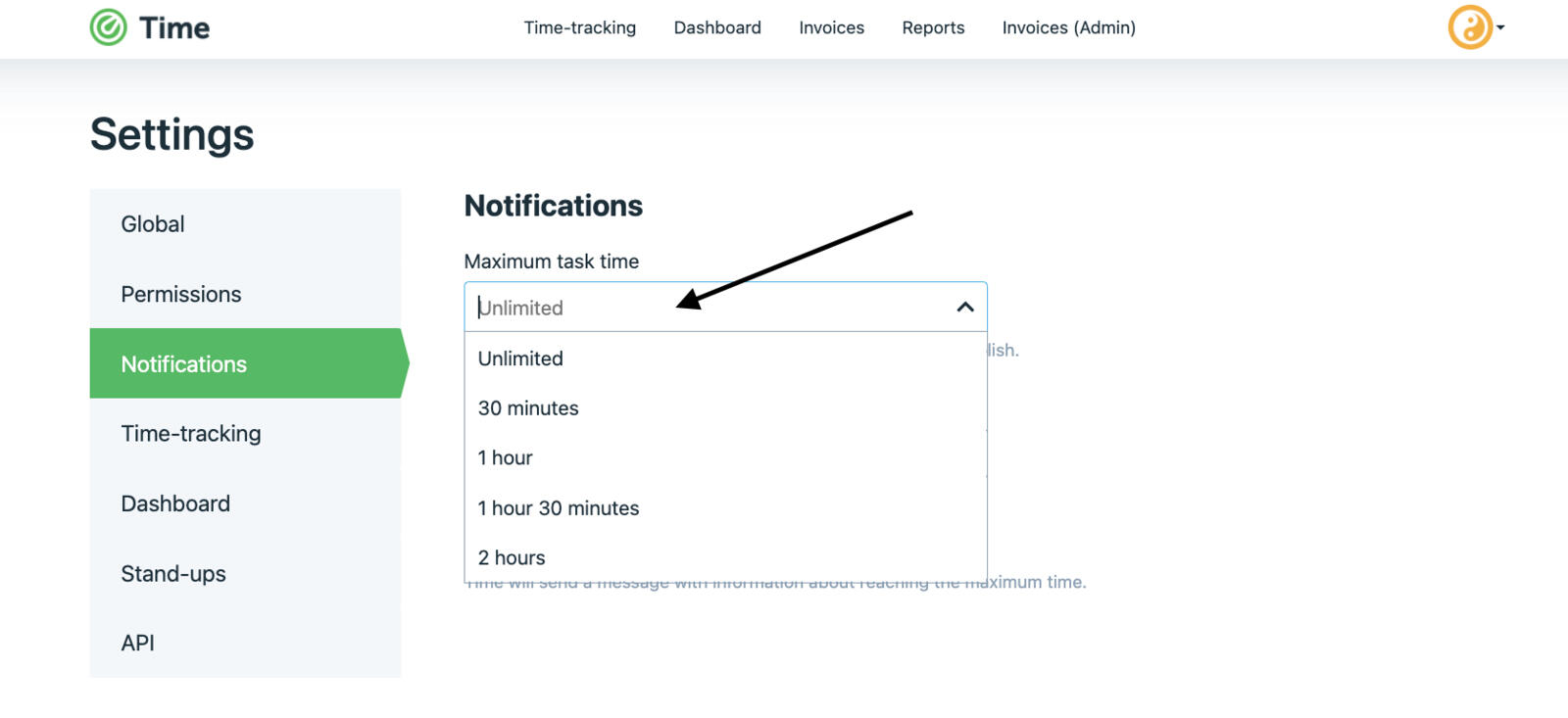 Choose break time from 10 minutes up to unlimited.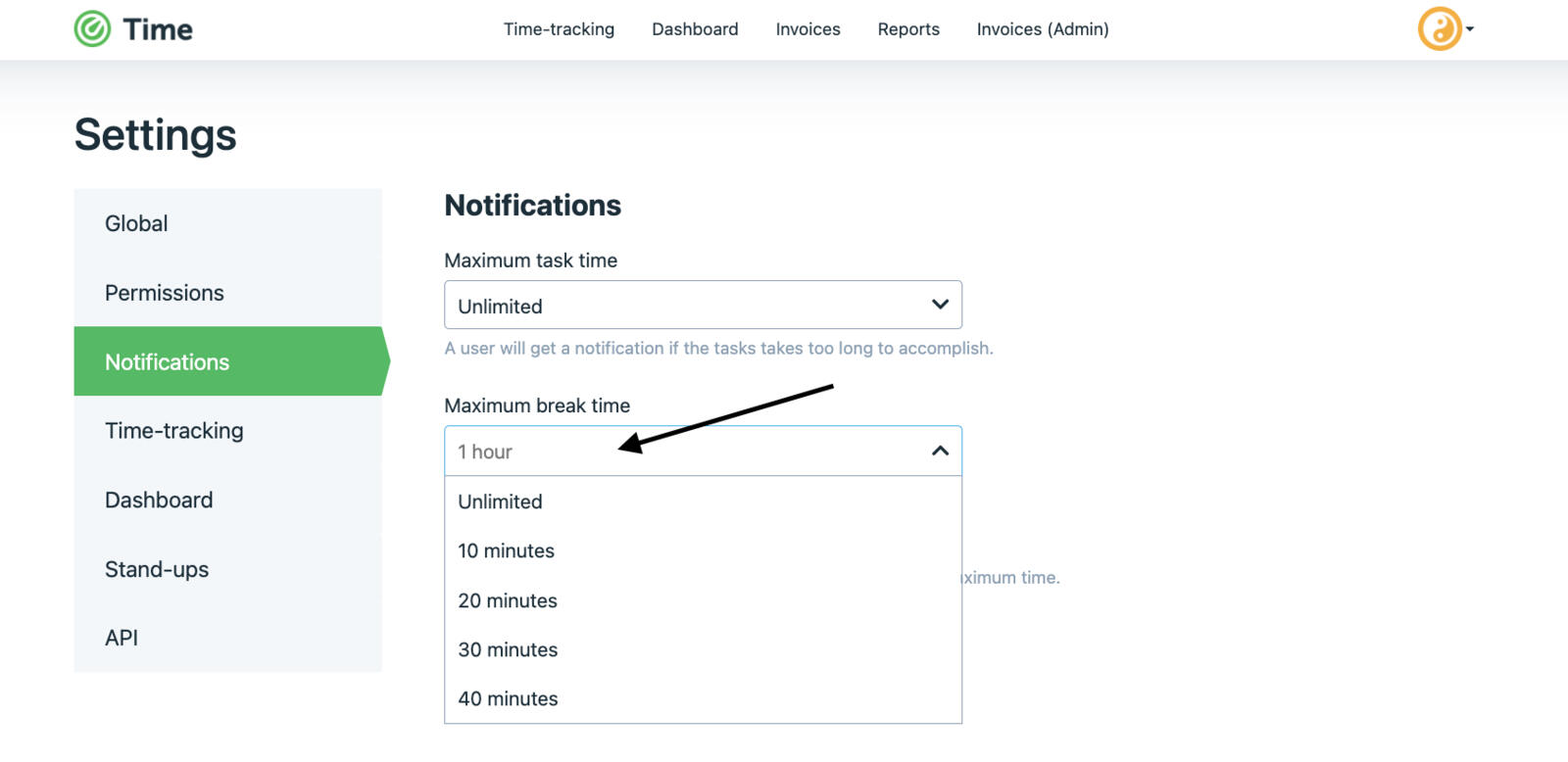 To enable notifications for your employees when they reach the maximum task or break time, select the 'Send notifications' checkbox.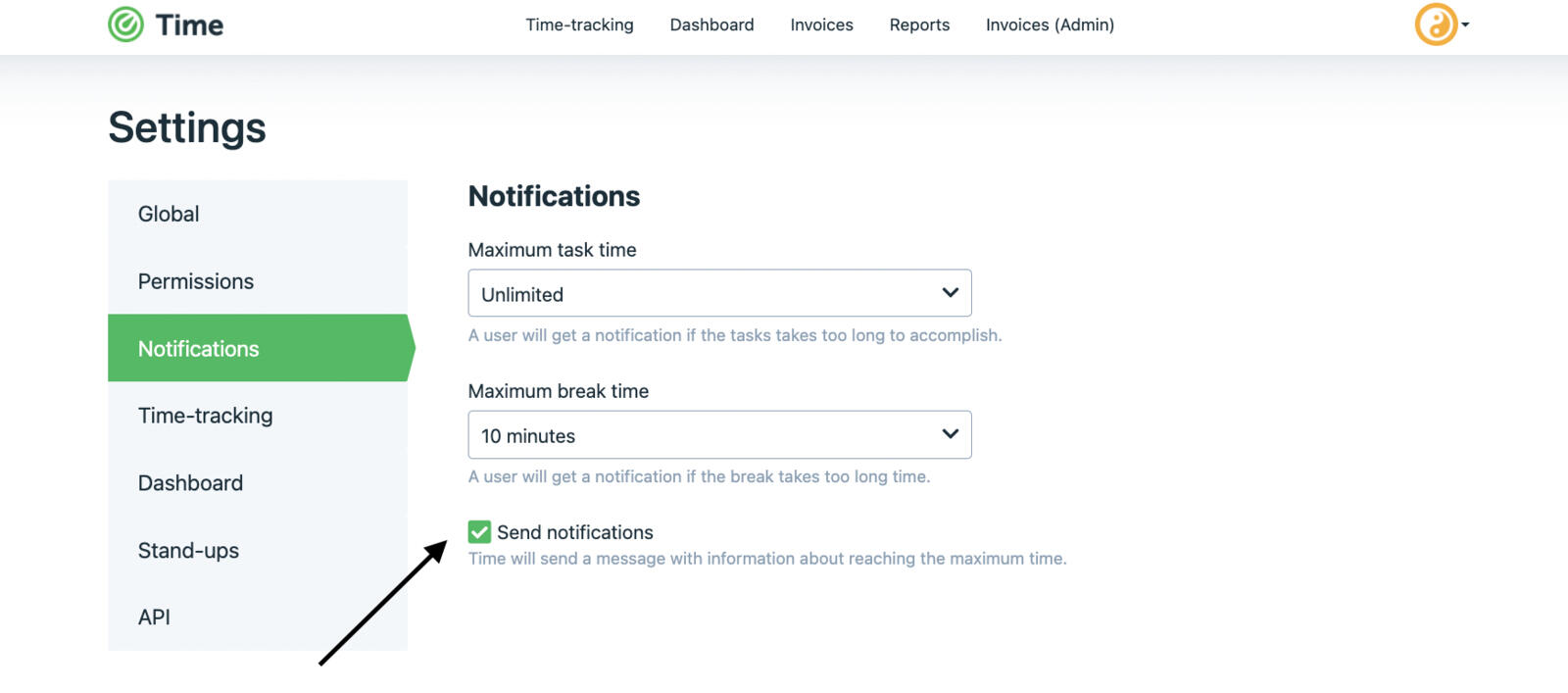 Dashboard
Set up the access for the dashboard and obtain a permanent link.
Choose the preferred type of access by selecting it from the dropdown menu:
Public access if you`re willing to share the link with anyone outside of your team.

Private access and only logged-in users from your team will be able to see the Dashboard.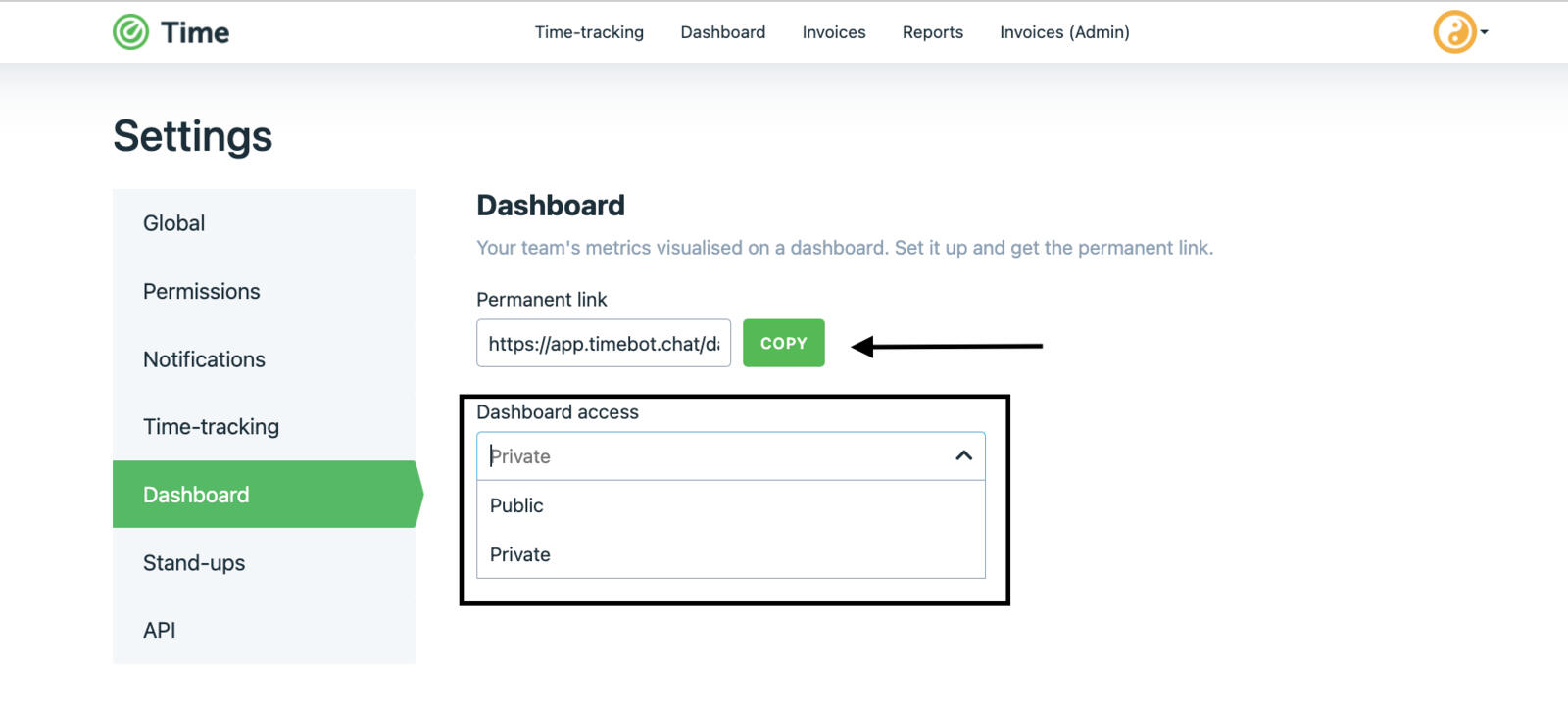 Stand-ups
Customize questions for daily stand-up meetings to track the team's productivity.
To set up the daily questions, make sure to enable stand-ups by checking the checkbox.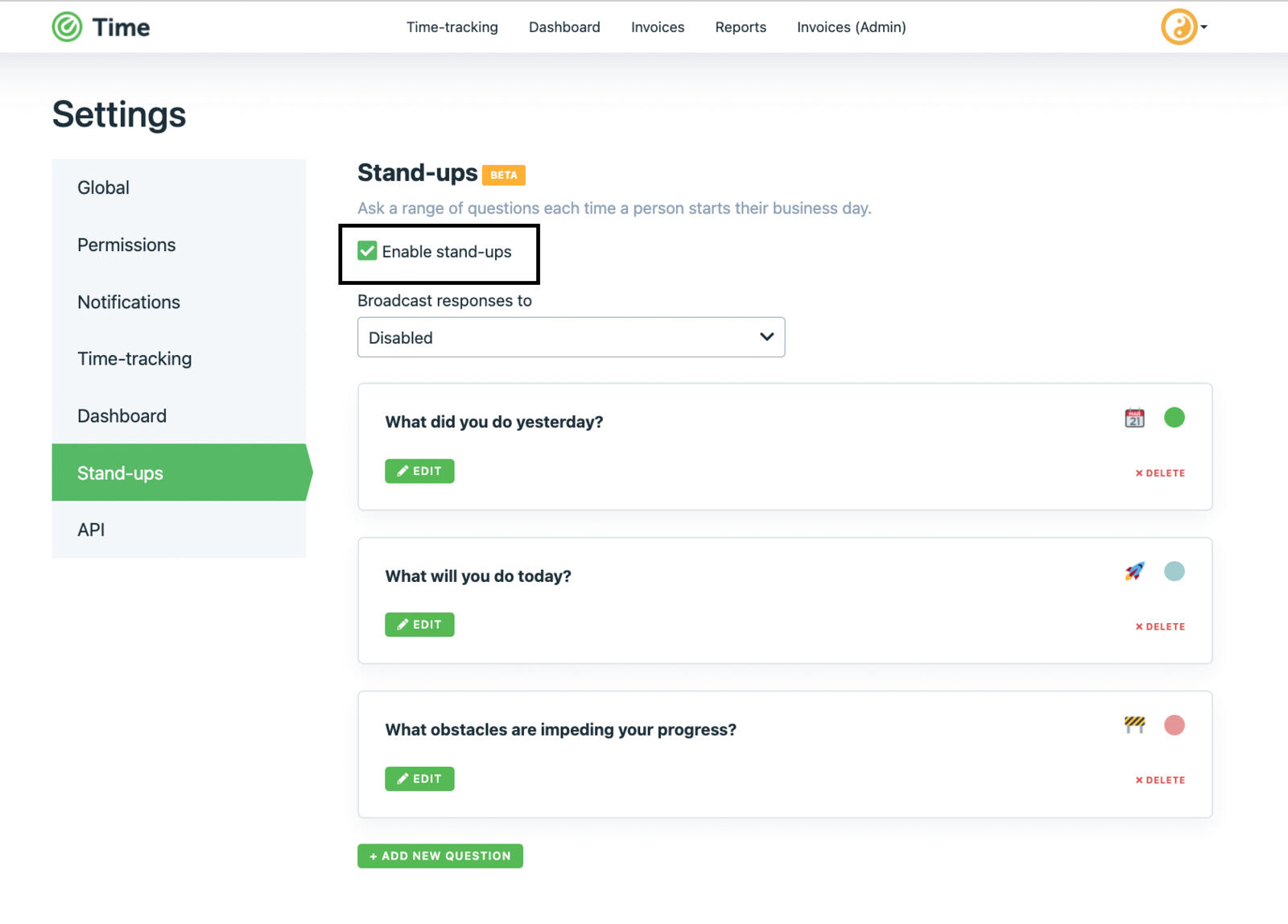 Choose the channel for broadcasting the stand-up meetings.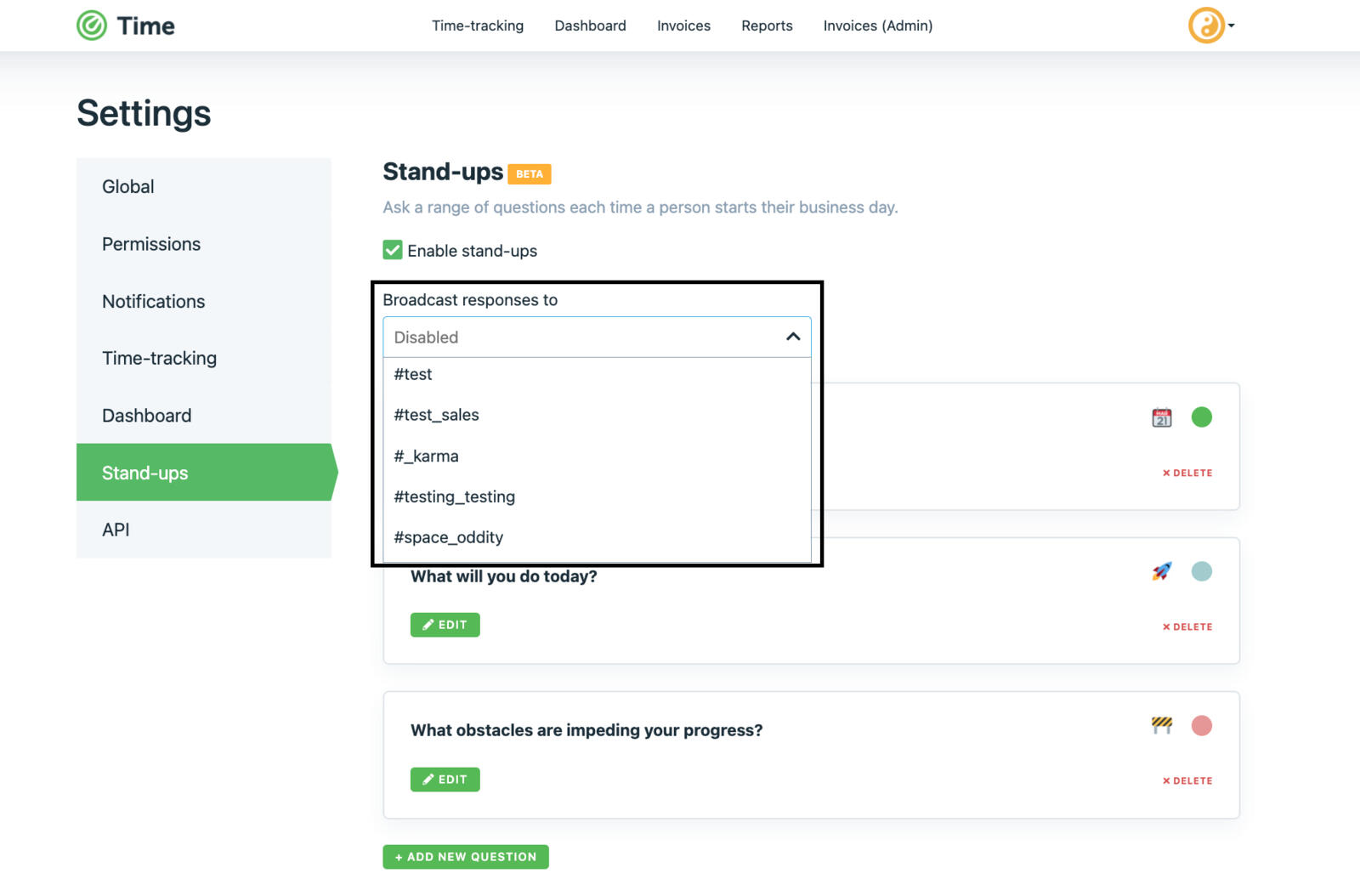 Typically, daily stand-up meetings involve asking each member a few key questions at the start of the day. However, you have the flexibility to add new questions or edit the default ones. The standard questions may be as follows:
What have you finished since yesterday?

What will you do today?

Any impediments in your way?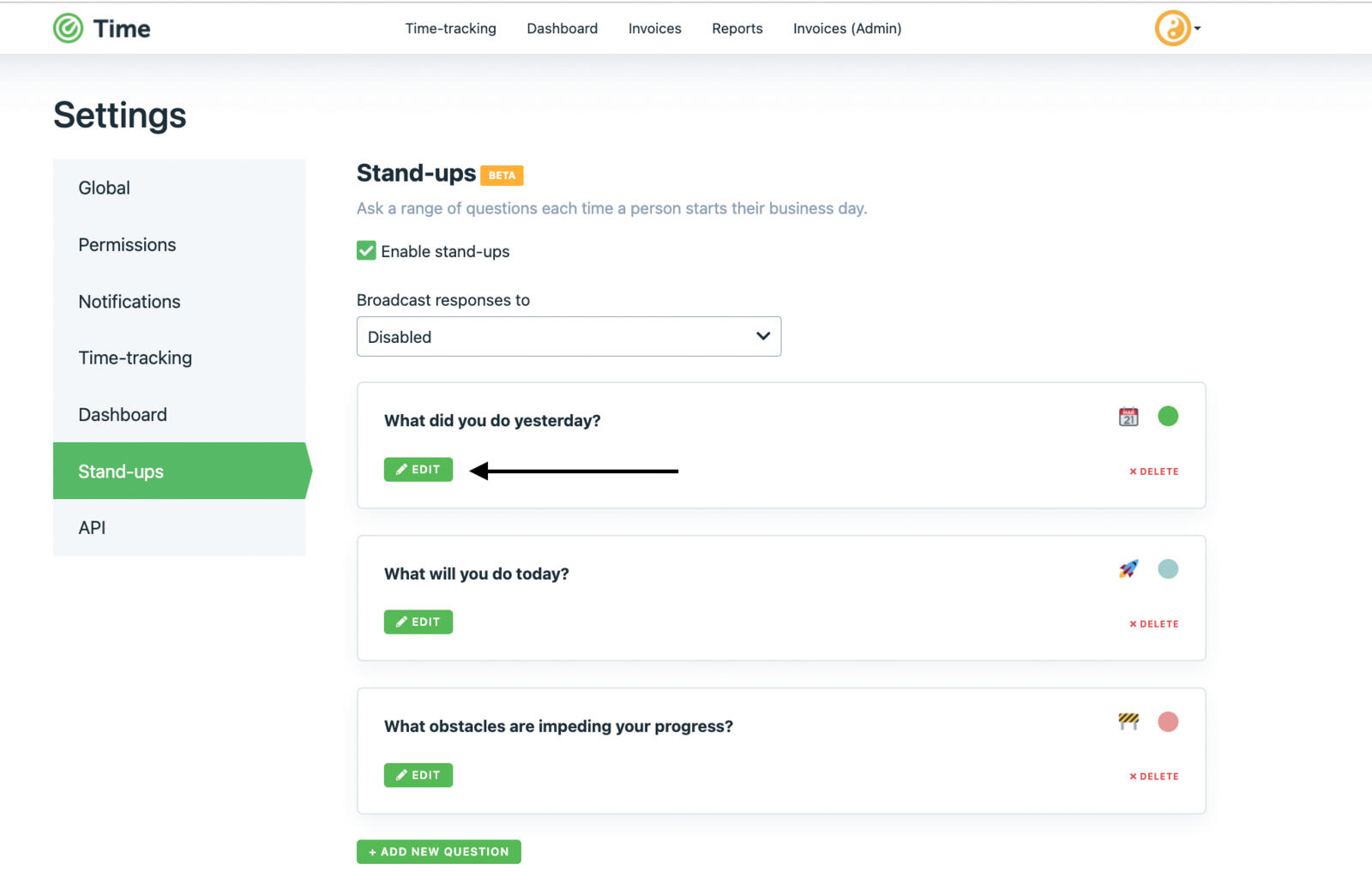 Company holidays
Before users can start requesting leave, administrators need to set up holidays based on your company's policies for tracking purposes. When employees request leave, TimeBot will automatically consider these company holidays to calculate the leave duration.Note: If your team is remote and spread across different countries, consider adding holidays for each country.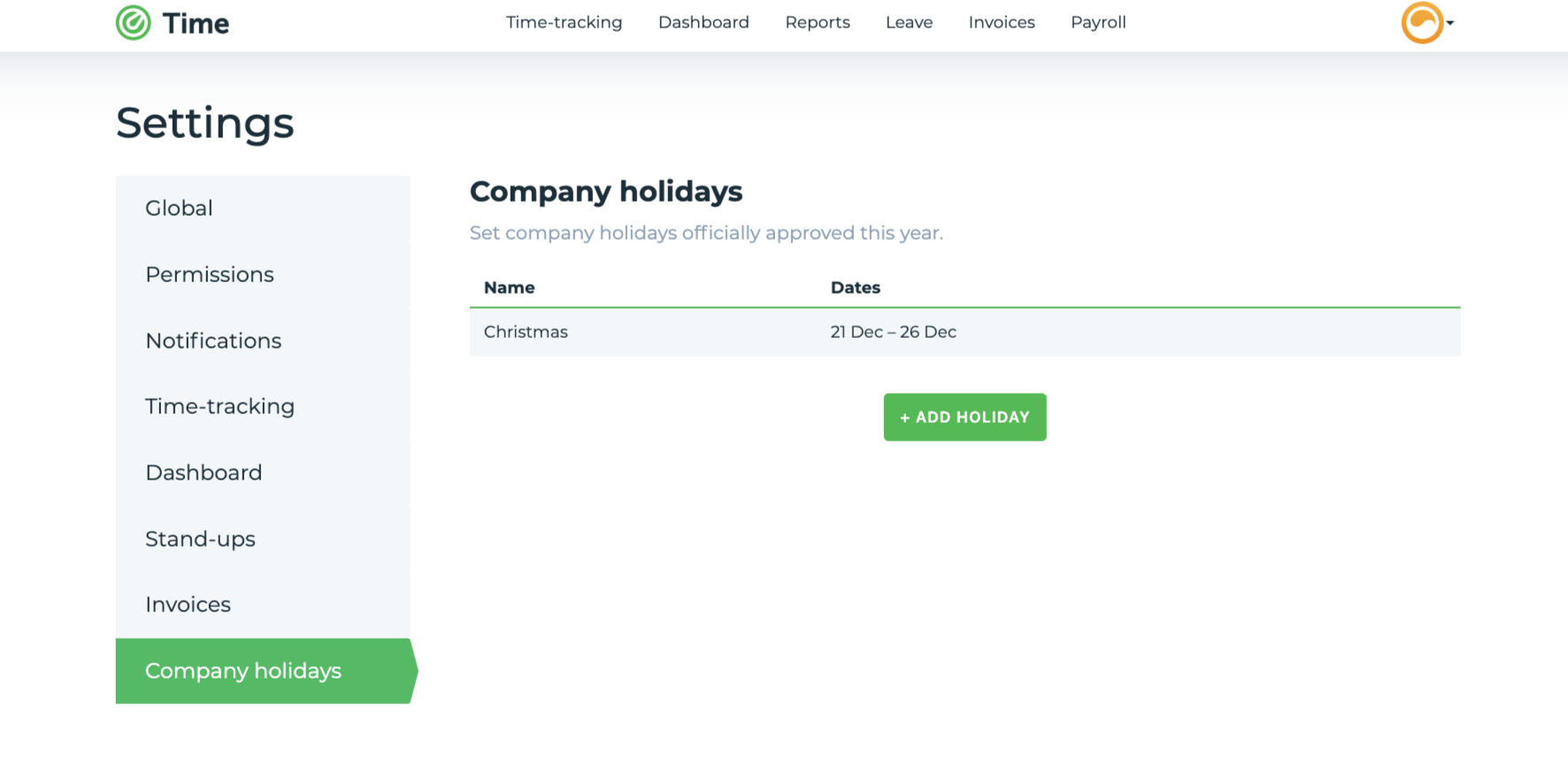 When you click on Add Holiday, you'll be prompted to provide the title and select the duration on the calendar below. Once you add the holiday, it will automatically appear for all users on the calendar under the "Leave" tab, ensuring everyone is aware of the holiday schedule.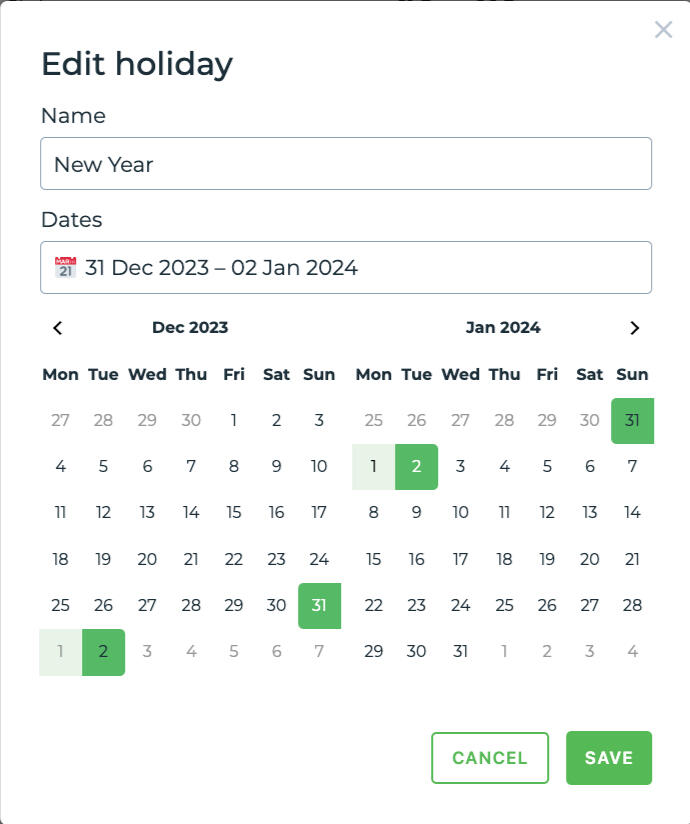 Leave
Time Bot streamlines the process of requesting time off through its Leave tab. Employees can easily submit leave requests, and managers can efficiently approve or decline them. Let's explore how the Leave functionality works from both the administrator and user perspectives:
Requesting Leave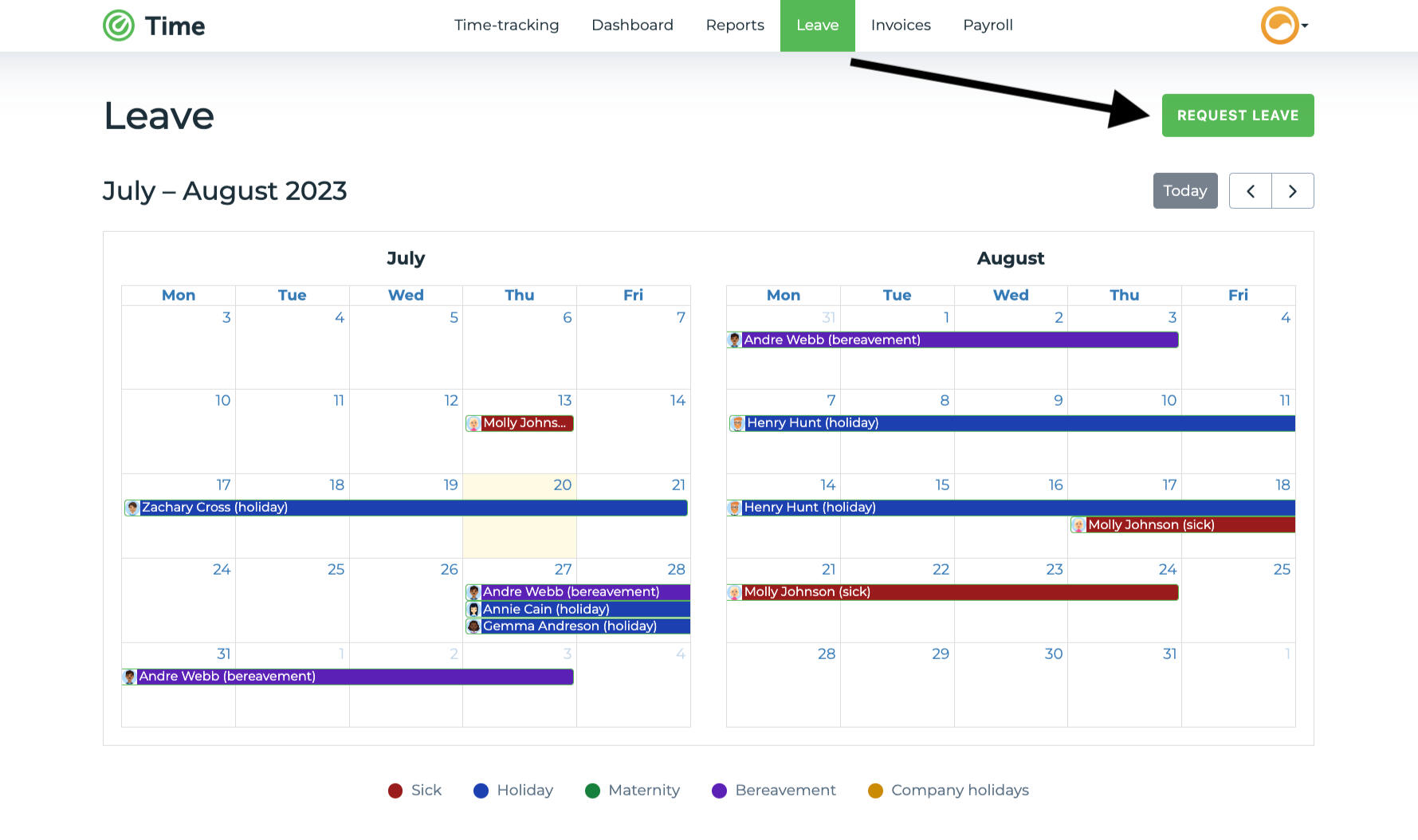 1. From the Leave request form choose the type of leave you need (e.g., personal, vacation, sick, parental, etc.).
2. Select the leave start date.
3. Provide a brief note, such as the reason for your leave (if necessary).
4. Click on Request to submit your leave request.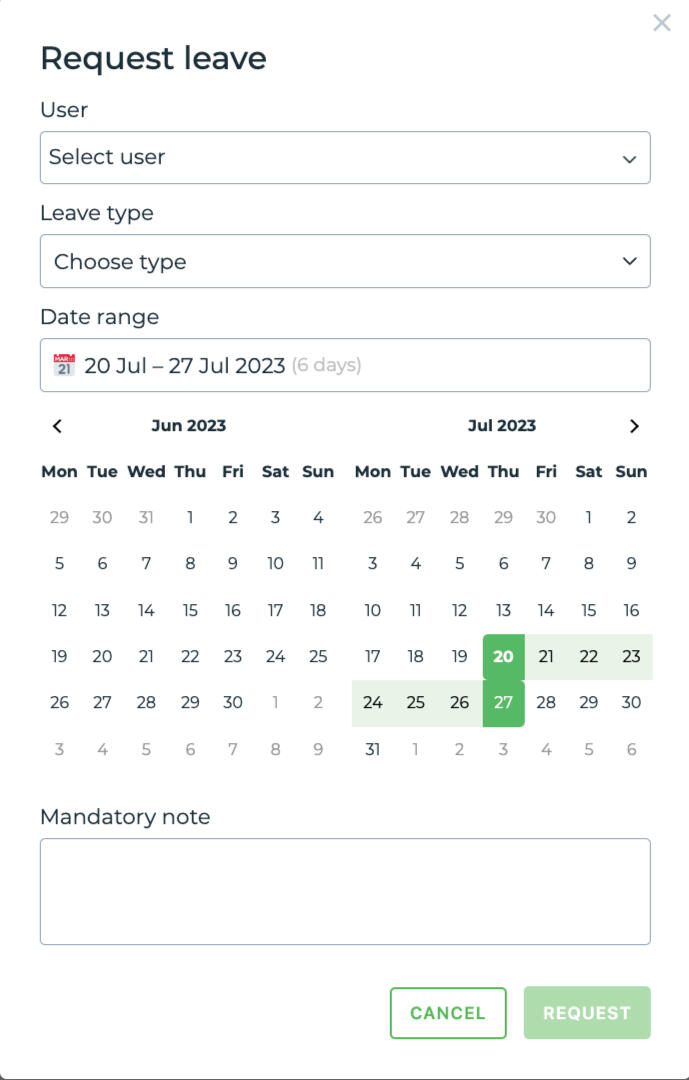 Approving or Declining Leave
As an administrator with the "Leave Management" role, you will receive leave requests from employees for approval. Here's how to handle them:1. Check your Slack notifications for incoming leave requests.
2. Review the details of the leave request, including the start date and reason.
3. Choose whether to approve or decline the leave request.
4. If declining, provide a reason for the decision to facilitate communication with the employee.

Check your Billing details
To view your Billing details follow the instruction below:
1. Go to the Billing page via the Profile menu.
2. Click on cost and you`ll see the upcoming invoice and the subscription details.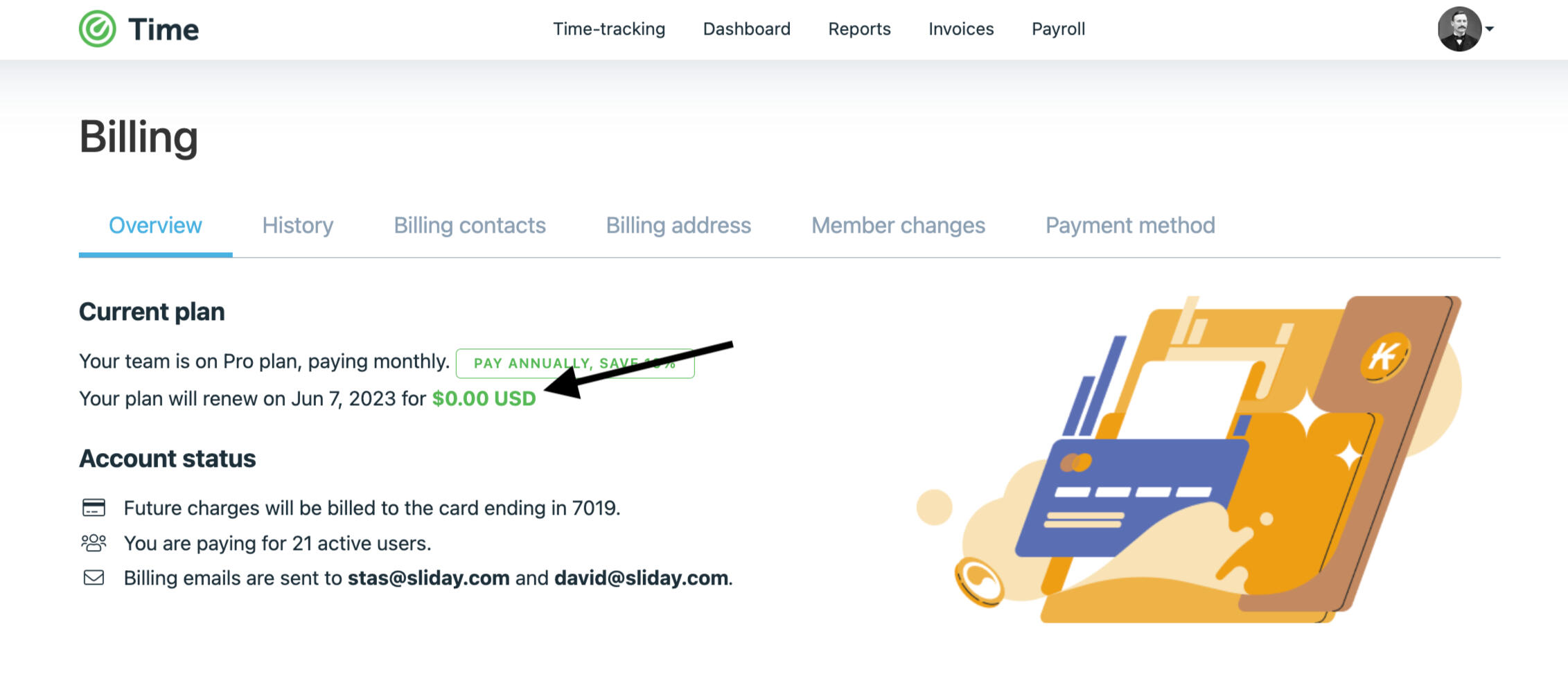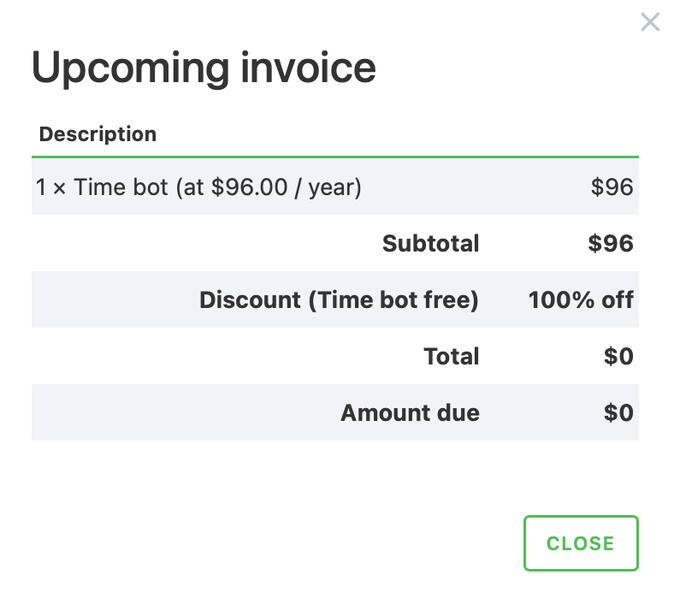 3. You can also change the subscription plan from monthly to annual at any time. All you need to do is to click the Pay annually button.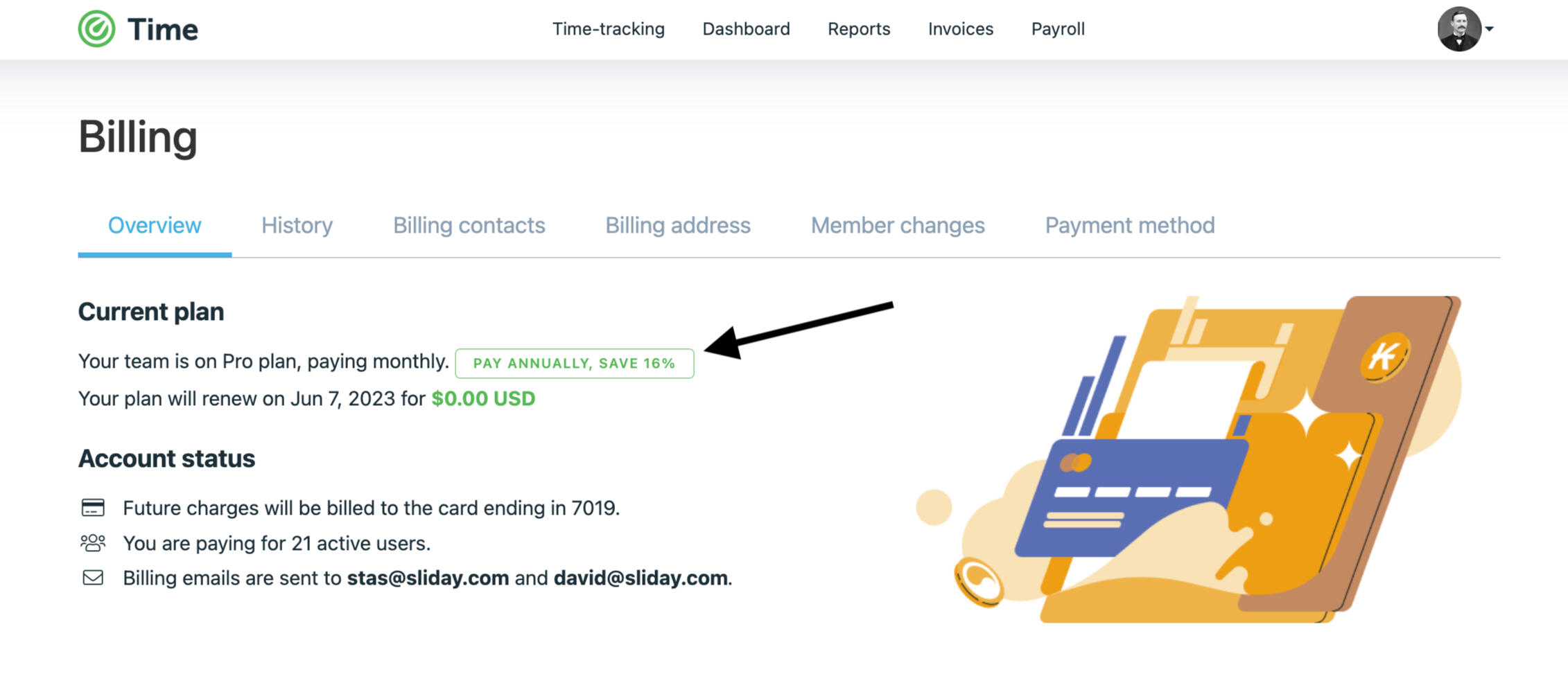 4. In case you want to pause, reset or delete your account, you can do it in the Danger zone setting section.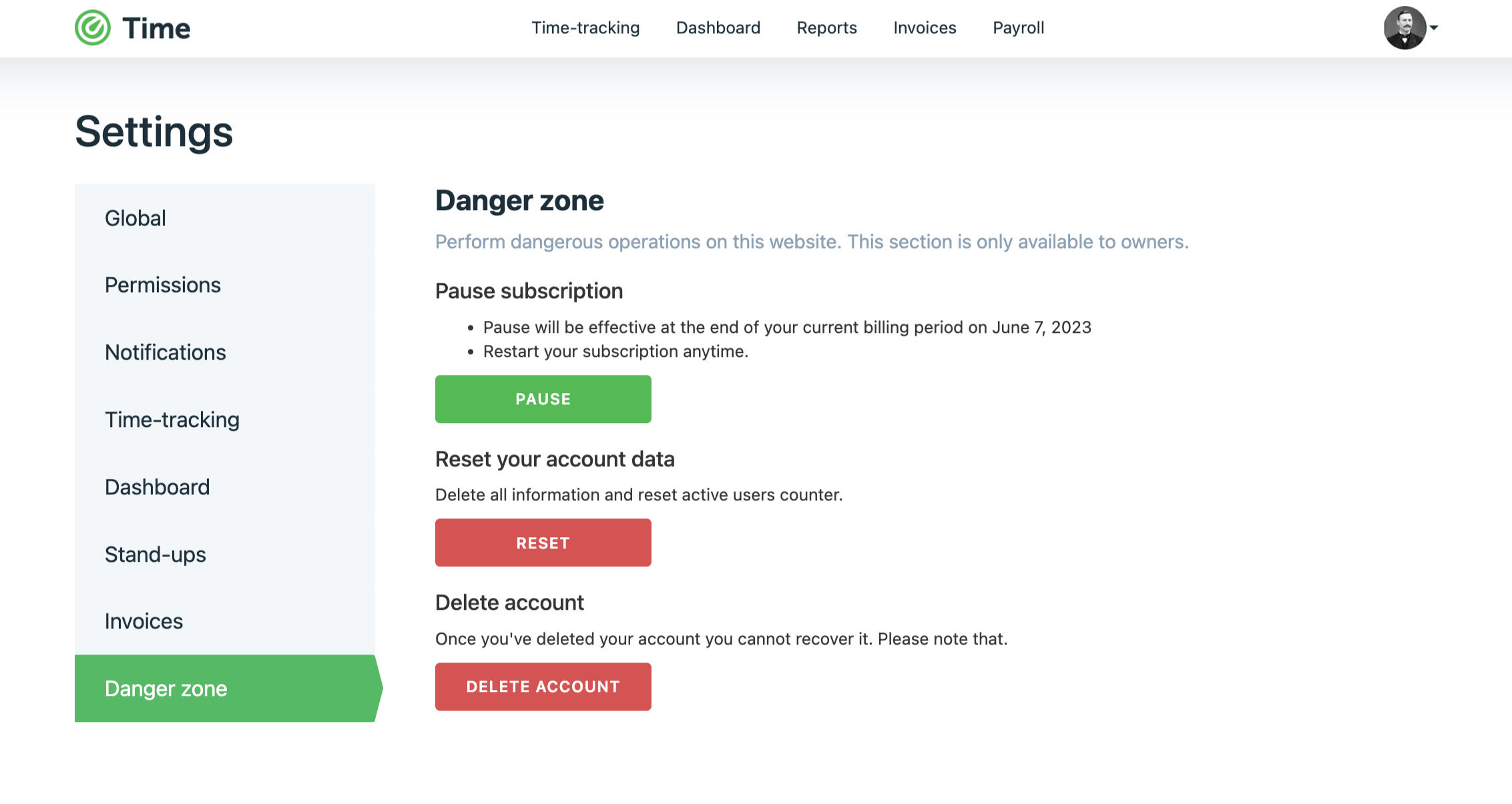 Billing and pricing FAQ
What's included in the free trial?
Time bot's 7-day trial is a full feature plan. You can use all of the features available. No credit card required.What's the price for Time bot?Time bot plan is based on the number of members at your Slack's workspace, and it will be $1 per active user per month (minimum charge is for 5 users).** When billed annually.Do you offer discounts for nonprofits?If your team is qualified as a nonprofit on Slack, get in touch for a discount.What methods of payment do you support?All major credit cards accepted: Visa, MasterCard, and American Express. Alternatively, we can invoice you for the subscription amount, please get in touch with us if you wish to pay via telegraphic transfer (t/t).Is my credit card secure?It is safe with Stripe. We don't store credit card details and use trusted and secure Stripe payments system.What happens when the trial is over? Will I be charged?After your trial ends, you won't be charged because we don't require a credit card to try Time bot. However, you'll no longer be able to use Time bot unless you upgrade to a paid plan.Can I get a refund?By default, your election to discontinue will take effect at the end of the then-current subscription period. You will not receive a refund for the then-current subscription period's fees.For example, if you have purchased a full year of Time bot subscription and paid the entire fees in advance, and during the year season you elect to discontinue your subscription, your subscription will expire at the end of the current period, but subscription fees for the current year will not be refunded.As another example, if you have purchased a monthly Time bot subscription and you subsequently elect to discontinue your subscription, your subscription will expire at the end of the current monthly billing period, but subscription fees for the current monthly billing period will not be refunded.All sales are final. We do not give full or partial refunds for subscriptions you have purchased, regardless of the basis for the refund request.As a subscription provider, Time bot reserves the right to offer refunds, discounts or other considerations in select circumstances at its sole discretion.
Or just get in touch
If you have any questions please contact support@timebot.chat
Thank you!
We want to express our sincere gratitude to you and your team. Your assistance has been invaluable to us, and we truly appreciate your efforts. Your support means a lot to us and we are grateful for your willingness to help. Thank you for being a part of our success, and we look forward to continuing our partnership with you!
Changelog
18 September 2023
👍 Added
💎 Improved
---
11 September 2023
👍 Added
---
4 September 2023
💎 Improved
---
28 August 2023
👍 Added
💎 Improved
---
21 August 2023
👍 Added
💎 Improved
---
14 August 2023
👍 Added
---
7 August 2023
👍 Added
🚧 Fixed
---
17 July 2023
🚧 Fixed
---
10 July 2023
👍 Added
---
26 June 2023
👍 Added
---
5 June 2023
👍 Added
💎 Improved
🚧 Fixed
---
15 May 2023
👍 Added
💎 Improved
🚧 Fixed
---
24 April 2023
👍 Added
💎 Improved
🚧 Fixed
---
3 April 2023
💎 Improved
🚧 Fixed
---
13 March 2023
👍 Added
💎 Improved
🚧 Fixed
---
20 February 2023
👍 Added
💎 Improved
🚧 Fixed
---
30 January 2023
💎 Improved
🚧 Fixed
---
9 January 2023
💎 Improved
🚧 Fixed
---
19 December 2022
👍 Added
💎 Improved
🚧 Fixed
---
28 November 2022
👍 Added
🚧 Fixed
---
7 November 2022
👍 Added
💎 Improved
🚧 Fixed
---
17 October 2022
👍 Added
💎 Improved
---
26 September 2022
💎 Improved
🚧 Fixed
---
5 September 2022
👍 Added
🚧 Fixed
---
15 August 2022
💎 Improved
---
25 July 2022
👍 Added
🚧 Fixed
---
4 July 2022
👍 Added
💎 Improved
🚧 Fixed
---
13 June 2022
👍 Added
💎 Improved
🚧 Fixed
---
23 May 2022
👍 Added
💎 Improved
🚧 Fixed
---